History of the TT Exhaust



When I was younger I had an old Honda CB200. Not a very rapid or great bike but it was a four stroke and it could be modified to make a great sound. I found a manufacturer now alas long gone called Campbell Geometrics who supplied me with a very extreme exhaust system. It came with a large nut in the centre of the silencer which could be turned to adjust the volume of the exhaust. What an excellent system! At the time I worked at TRW United Carr a company that supplied parts to the automotive industry and so it was inevitable that the TT exhaust or something like it would come into existence. Particularly as now I have worked for Volvo, Ford, Mercedes-Benz and Lotus.

In 1988 my wife Janet bought a black X1/9. That was a brilliant little car. I went and bought myself a matching red one. The black one's exhaust fell off but on examination I found somebody had fitted a 4-1 manifold onto it. This got me thinking. At the time there was a little community of motor service operations in Mitcham. The primary parts of this were two characters. The Exhaustman and Trevor Taylor Conversions an MG specialist of some note. Both are now unfortunately closed.

I went along to the Exhaustman and had many long conversations about how to make exhausts; he had considerable experience making them for Tyrell and Brabham F1. I learned a lot and armed with a bunch of bends and the Exhaustman's guidance I made my first straight-through exhaust for the X1/9. I was very pleased with what I had learned put into reality. It utterly transformed the car adding what seemed like a hundred horsepower and a real dose of Italian bravo to an already decent little car.

On the job side of things I was doing well and joined a Business Strategy Consultancy at the time I was driving a 1969 Triumph 2000 (with of course a modified straight-through exhaust). One evening I got lost and joined a very heavy traffic jam. My mobile ran out of power so I pulled into Trident MG just as they were shutting to use their phone to call the wife. In the showroom was one of the first MGFs in Flame red... you know what happens next.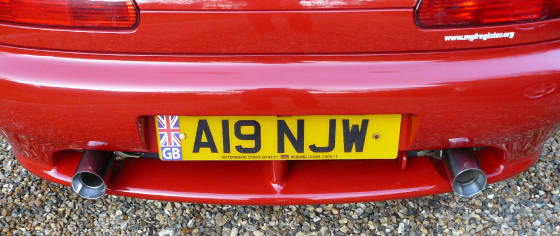 TT Mk4 + finishers
From the first incarnation of the MG EX-E I've always wanted a mid-engined MG . The original image of the EX-E adorned my office wall back in the mid late 80s so it was inevitable that I would get an MGF and on March 10th 1996 I collected my Red MGF. What
a great experience …apart from one thing… rev the engine and it went phut-wheeze. This wasn't an MG sound. Old Bs blat around making a sound like spanners being flushed down a drain BV8s sing a song written in heaven. Older MGs get even greater soundtracks. No something had to be done about this I wrote to MGR and got the usual response. So in 1998 I went to see Trevor Taylor armed with some basic sketches we discussed design.
I wanted a straight through design I am not a big fan of chambered silencers and I wanted to apply what we had learned. We went to the Exhaustman and he created from our brief the first of the TT pipes. At this time I had a cat bypass made and fitted, probably one of the first. When we first started the car up in Trevor's garage OMG!! I've never heard anything like it. Absolutely perfect, spot on. Loud, powerful and deep. Just what I had in mind.


Trevor and I agreed that he could make these and sell them as the Trevor Taylor Fxtreme exhaust. I am not sure how many were made but they all carry the original straight-through design and the brutal cut-off ends. These pipes were never polished only made for early MGFs and had mild steel flanges with bolt on fixtures for easy removal at MOT time so you can refit the cat. I still have the original prototype on my MGF.
Unfortunately Trevor Taylor died of cancer soon afterwards. The TT exhaust was named in his memory.

In 2005 at the 10th anniversary of the F at Gaydon I was accosted by Charles Yarwood who heard me arrive, came up to me and said.. "that's a Trev Taylor isn't it, and you're going to tell me their made of unobtanium and you cant get them anymore but I want one" Needless to say I thought this through and decided that I should get another batch made. Thus was born the TT Mk 2. Again only ever made in low numbers (14) and again made to the original straight through design with a few modifications. The Mk 2 sold well to MGF and TF fanatics mainly created as labour of love, an exclusive pipe for those in the know.
And in the same way it all happened again in 2008 the period leading up to the MGFest08 a couple of MG fans requested one and motivated me to go and have more made. and so I found a new manufacturer and handed over the original prototype and said "make some of these". This time reverting to the Mk1 fitments and design also producing them only with the instantly recognisable cut off tail pipes. This time the exhaust ends will be polished and the silencer boxes too making them instantly recognisable as TT exhausts.